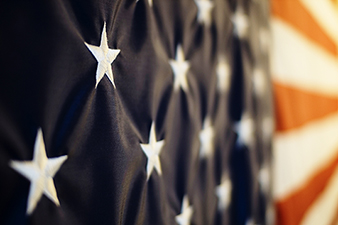 Apogee Solutions is proud to be a certified by the Small Business Administration (SBA) as a Woman-Owned Small Business (WOSB), after previously being certified by the U.S. Women's Chamber of Commerce (USWCC).  This certification makes Apogee Solutions eligible for contracts through the SBA's WOSB program.  The creation of a rule to increase federal contracting opportunities for Woman-Owned Small Businesses (WOSB) was authorized by Congress in 2000.  Since that time, the SBA took a number of steps to study and analyze the market, including looking at participation by women-owned small businesses across all industries. 
The SBA issued a final rule authorizing federal agencies to award sole-source contracts to WOSBs eligible for the WOSB Federal Contract Program, effective 14 October 2015.  The rule levels the playing field for WOSB across the federal contracting marketplace under the SBA's 8(m) program identified in 13 C.F.R., part 127.  To become certified, a company must go through an in-depth review by the SBA.  The requirements focus on female ownership, high-level control, and management of daily operations.  The WOSB certification helps provide enhanced opportunity for women business owners; the government limits competition for certain contracts to businesses that participate in the SBA's 8(m) contracting program.
Apogee Solutions is certified as a WOSB under the following NAICS codes:
| NAICS Code | Description | Size Standard |
| --- | --- | --- |
| 541330  | Engineering Services | $16.5M |
| 541519 | Other Computer Related Services  | $27.5M |
| 541611 | Administrative Management and General Management Consulting Services | $16.5M |
| 541612 | Human Resources Consulting Services  | $16.55M |
| 541614 | Process, Physical Distribution, and Logistics Consulting Services  | $16.5M |
| 541618 | Other Management Consulting Services  | $16.5M |
| 541690 | Other Scientific and Technical Consulting Services | $16.55M |
| 541712 | Research and Development in the Physical, Engineering, and Life Sciences (Except Biotechnology) | 500 employees |
| 541720 | Research and Development in the Social Sciences and Humanities | $20.5M |
| 541900  | All Other Professional, Scientific, and Technical Services | $16.5M |
| 611430 | Professional and Management Development Training | $11M |
| 611710  | Educational Support Services | $16.5M |
| 621420 | Outpatient Mental Health and Substance Abuse Centers  | $16.5M |
| 621999 | All Other Miscellaneous Ambulatory Health Care Services  | $16.5M |
WOSB Repository Documentation:
Contracting Officers have access to the WOSB Repository available at https://certify.sba.gov.  Pursuant to FAR 19.1505(e), Contracting officers must check whether the apparent successful offeror provided all the required eligibility documents set forth in 13 CFR 127.300(d) or (e).  Contracting Officers must access the WOSB Repository through MAX.gov using their PIV or CAC card and request access to the eligibility documents provided by the successful offeror.  Contracting Officers may view the eligibility documents only if the apparent successful offeror approves their request.  Apogee Solutions has filed the required documents in the WOSB Repository at SBA One Contracting Portal.  
WOSB Set-Aside and Sole-Source Awards:
The Small Business Administration (SBA) has announced that 364 industries, ranging from facilities support to computer systems design, are in industries where women are traditionally substantially underrepresented.  If a NAICS Code is assigned to a contract solicitation in an industry in which WOSBs are substantially underrepresented, a set-aside or sole-source award may be made to a WOSB.    
Four Requirements for a Sole-Source Contract:
The FAR Council's Interim Final Rule implementing sole source authority became effective on December 31, 2015.  For a WOSB Sole-Source Contract, four requirements must be met:
Is the contract in a WOSB eligible NAICS code?
Is the contract (including options) valued at $6.5 million or less for manufacturing contracts or $4 million or less for all other contracts?
Can the contract be awarded to the WOSB at a fair and reasonable price?
In the determination of the contracting officer, is there a reasonable expectation that there is only one WOSB that can perform?
Some of the Components of the Women-Owned Small Business Rule Include:
To be eligible, a firm must be 51 percent owned and controlled by one or more women, and primarily managed by one or more women. The women must be U.S. citizens.
The firm must be "small" in its primary industry in accordance with SBA's size standards for that industry.
In order for a WOSB to be deemed "economically disadvantaged," its owners must demonstrate economic disadvantage in accordance with the requirements set forth in the final rule.
The final rule identifies 112 industries (identified by "NAICS" codes) in which women-owned small businesses are under-represented or substantially under-represented in federal procurements.
The National Defense Authorization Act for 2013 removed the caps on the contract award size for which WOSB concerns have been able to compete.
The National Defense Authorization Act (NDAA) for Fiscal Year 2015 allows "sole source" awards to WOSBs in appropriate circumstances.