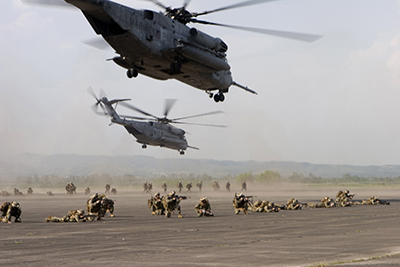 Apogee Solutions provides consulting and professional, technical, and program management services to the Department of Defense for operations,training, and logistics services.  Apogee Solutions' personnel have extensive backgrounds in strategic planning, applied and theoretical research, operational analysis, training development using the Systems Approach to Training (SAT), technical writing, and design and execution of Live, Virtual, and Constructive (LVC) training and exercise events. 
Apogee Solutions is extensively involved in supporting Army training, supporting Army Forces Command (FORSCOM) as the Army's Executive Agent for program planning and execution for the Joint National Training Capability (JNTC), improving the ability of U.S. forces to fight effectively as a Joint and Combined team by extending joint training to a much broader audience.  The JNTC provides a networked, global system of both Service and joint facilities that brings the benefits of LVC opportunities to the Joint user at all echelons.  Apogee Solutions supports developing concepts, training strategies, and identifying resources essential in translating this concept into reality.  We manage FORSCOM JNTC event planning and coordination efforts, identify training objectives and goals for JNTC events, and develop courses of action to support objective attainment.  Critically, we provide recommendations in the development and execution of Army Event Accreditation, Venue Certification, and Unit Validation.  Our personnel coordinate incorporation of tactical units, LVC training formats, Opposing Forces (Red Cell), Observer Controllers, augmentation for Joint assessment teams, Echelon-Above-Brigade Higher Headquarters elements, augmentation for Exercise Control Groups, augmentation for Echelon-Above-Corps and Joint Task Force Headquarters (Blue and White Cells), and exercise planners and staff.
We have broad experience in the exercise and training environments working with the Joint Community as well as the Army, Navy, and Marine Corps.  Apogee Solutions provided professional, technical, and program management services to the U.S. Army's Sustainment Center of Excellence at Fort Lee, Virginia.  With the Army, we provided training services at the Army Logistics University and for the Army Quartermaster, Ordnance, and Transportation Schools.  Apogee Solutions provided instructors, training support, and staff support for advanced individual training, officer basic and captain career course training, warrant officer basic and advanced course training, functional course training, and non-commissioned officer professional development training.  From classroom lecture to hands-on exercises in both a classroom and field environment, instructors used either actual or virtual systems and material.  Field exercises were contemporary operating environment scenarios conducted employing live fire in a realistic, safe environment.  Additionally, we  supported the Defense Threat Reduction Agency's Chemical, Biological, Radiological, Nuclear, and high Explosive (CBRNE) mission with respect to Military Transformation using complex modeling and simulation (M&S) capabilities.  
As a partner on several USMC training contracts, Apogee Solutions provided "end-to-end" training and instruction services at USMC simulation sites and training facilities.  Apogee Solutions supported LVC training, exercises, and mission rehearsals at various locations for the Marine Corps, supporting more than 100 training events annually while providing services to the MAGTF Integrated System Training Centers (MISTC) as well as the Combined Arms Staff Trainers (CAST) located at each MEF and 29 Palms.  Apogee Solutions also provided subject matter expertise (special operations, intelligence, logistics, command and control, and public affairs support) necessary to execute the flagship MAGTF Staff Training Program (MSTP) at Quantico, VA.
Apogee Solutions provides veteran/retired military personnel who develop scenarios, serve as observer/controllers for events, and provide vital feedback on unit performance.  Our Subject Matter Experts assist in conducting exercises and large-scale training events in preparation for operational missions using their unique, military-related education and experiences in the critical specialty of modeling and simulation.